Anubhuti is formed and self-led by women, who have dealt with caste, class, gender, language and ethnicity based discriminations. We have come together to ensure that these experiences are used positively for change.
Deepa Pawar, Founder Trustee: In over 16 years of experience, she has formed youth groups and run rights-based campaigns in Mumbai's Koylabundar, hilly slums in Sewri, Juhu Koliwada, Bandra Plot, etc. with deprived, at-risk, trafficked & homeless youth. She is a core team member of the state-wide Right to Pee campaign. She has a Masters in Social Work and works as trainer with NGOs, youth, government officials on topics of gender, rights, leadership, health, sexuality, mentoring, etc. As part of the team she handles visioning, trainings, and advocacy.
Amrita De, Trustee: Since last 12 years, she has worked with adolescents and youth such as in Malwani (Asia's second largest slum), semi-rural villages in Thane District and in shelter-homes. She has a Masters in Social Work and has published booklets on girls' experiences of menstruation, girl activists in history and on Understanding Gender. In the team, she takes care of administration, fundraising, and content-creation.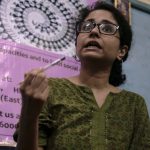 Anu Salelkar, Trustee: She has worked with adolescent girls' groups, college youth, sex workers and women with disabilities on their health and safety. She has a background in research, having studied sexual harassment of girls in schools for her MPhil dissertation. In the team, she is responsible for communications and social media.
Tilottama Thite, Trustee: She has worked with adolescents for more than a decade through the acclaimed 'Gammat Shala' (Fun School) in Dombivali. She later worked with youth in communities on their life skills development in Kalyan-Dombivali area. In the team, she is in-charge of community campaigns and programs.